Back in my days when I was still living in Kenya, I used to take minimum care of my complexion. But it was not my fault at all. In fact, I was not aware that I could take special care of it. During those years, skincare products were not widely available as they are today.Certainly, during the last decades of the last century, Korean skincare routines and their products were not even close. Due to that, I was limited to use common soaps that were suitable for the rest of my body too.
 However, some cosmetics were available and me and the rest of the women in my family put some makeup on regularly. Although those cosmetics had their effects to help us enhance our beauty, they also had a downside. That was mostly because we did not have the right products to remove them, clean deeply our pores, or moisturize the skin.Not to mention that despite the efforts of famous cosmetic brands, the palette of colors and other options for black women were limited too.
This lack of skincare routines among African women was commonly related to the fact that we do not need as much care as lighter skins do. But such affirmation might not be completely accurate. And yes, black skins may have more melanin to help us get protected against sun rays.Certainly, we all know how much influence sun rays have on our skins.Thus, a higher amount of melanin is one of the main reasons why our skin tends to age more gracefully without wrinkles or lines.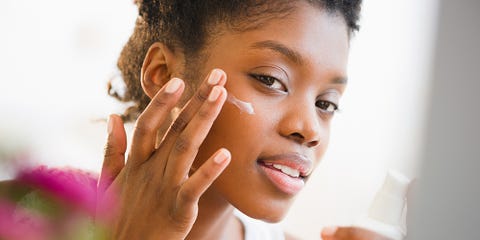 But this is not the only reason to start taking care of our skin. That is because during our lives we get exposed to more elements than just sun rays which may cause dryness, acne, oily skin, and more. Hence, a skincare routine is what can help us get the proper hydration, softness, and luminosity.
Just by looking at the skin of models and celebrities such as Tyra Banks, Vanessa Williams, Tracee Ellis Ross, and Naomi Campbell you can easily notice they take good care of their skin. They are not only aging well but looking absolutely radiant. They obviously took a step ahead to not rely on their natural melanin only. Hence, they added products and routines that give them radiance, and glow… and all of us with dark skin may easily add them too!
That is exactly what I learned during these years. As a bonus, I discovered that the almighty recipe to get better skin is to follow a skincare routine and no one knows it better than Korean brands. Each one of them seems to go deeper with the time by including new ingredients and methods to apply more effective routines. What is even better is that among all their products, most of them are suitable for dark skins too.
Although our skins are darker, they also share many of the problems of lighter skins. As an example, if you have acne or blemishes, foam cleansers to remove your makeup are a great option. They offer the protection that your sensitive skin may need during those days. In the same vein, oily skins, which are very common among African skins, can find many oil-free moisturizers.
Dark skins can also take the wave of sheet masks. That is because they come in so many variations and formulas that you will surely find the right sheet mask for you. Also, sun blockers should be part of any routine, no matter the type, texture or color of the skin. Dark skins may get benefited of adding it to avoid dryness and ultimately darker spots caused for long exposures to the sun. This is the perfect way to keep your melanin at bay.
In short, what you really need to learn about skincare routines for dark skins is that you have not limits or excuses to start taking care of it. If you still have doubts, Korean brands got you fully covered with all the options they can offer you.