DR. JART+
[DR. JART+] Cicapair Serum
Dr Jart Cicapair Serum is a serum dedicated to healing, repair and protection of the skin.
It contains CentellaAciatica to soothe and heal the skin, aided by a collection of more herbal ingredients.
It was made for sensitive skin.
It comes in a travel friendly 30ml bottle.
Pair it with Dr Jart Cicapair Cream afterwards for more soothing and hydration.
--
Pat the sensitivity away with Dr Jart Cicapair Serum
From the makers of products suited to sensitive skin is
Dr Jart Cicapair Serum
, the latest in a line of skin restoratives.  Gone are the days where you had to constantly worry about irritations that just wouldn't go away. Within its formula is a collection of potent ingredients that rejuvenate the skin in the following key ways.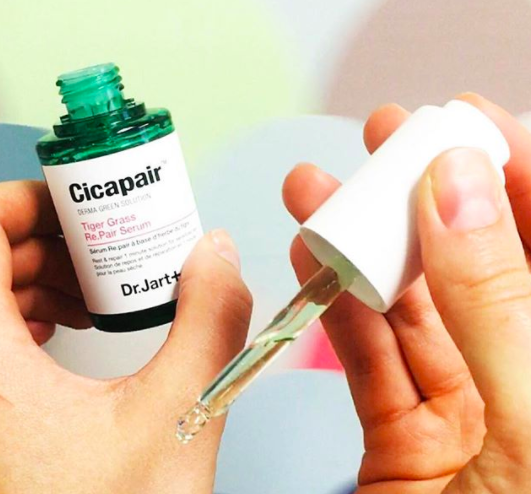 Step 1: A deeply soothing experience
The very first feeling that you will get when you apply
Dr Jart Cicapair Serum
is the calming sensation that washes over your skin. This can be attributed to the work of soothing ingredients including but certainly not limited to:
CentellaAsiatica
A product of the wildly growing tiger grass, CentellaAsiatica is a wonderful alleviating ingredient. Its strong anti-inflammatory qualities are able to reduce any swelling and redness that comes when the skin is irritated.
Lavender oil
Just like CentellaAsiatica, Lavender Oil is a potent anti-inflammatory as well. It is able to similarly alleviate any skin agitation, resulting in skin that is calm and ready for rejuvenation!
Step 2: Restoring through healing
Once any swelling and redness is cleared away, these following are just some of the ingredients in
Dr Jart Cicapair Serum 
that get to work repairing it form the inside
CentellaAsiatica
As its anti- inflammatory qualities soothe the skin, its anti-microbial properties dig deeper to find damaged and weak tissue. From there it actively stimulates tissue repair for each damaged or weakened cell. This allows for healing that clears skin conditions like acne and eczema that sometimes just won't go away.
Grapefruit Peel Oil
Similar to CentellaAsiatica, Grapefruit Peel Oil joins the lineup of potent antimicrobial ingredients. As it penetrates the skin tissue, it encourages the repair of skin tissue to its original non-afflicted state.
Roman Chamomile Flower Oil
Completing the skin healing ingredient group is Roman Chamomile Flower Oil, which also actively promotes the healing and repair of skin tissue.
Over time these ingredients ensure that all blemishes are cleared away as the skin is reinvigorated, becoming beautifully clear once more!
Step 3: Strengthening for protection
Once your skin has been restored to its unblemished state, Dr 
Jart Cicapair Serum
works to make sure that it is well protected. This will be safety from the aggressors that would trigger sensitivity in the first place.
An herb complex consisting of Resurrection Plant Extract, Chameleon Plant Extract and Yarrow supports the natural protective barrier around the skin that makes it strong. This along with a complex of carefully selected botanicals ensures that your skin is safe throughout your time in the environment.
How to use Dr Jart Cicapair Serum
After cleansing and toning, apply a moderate amount onto the skin.
Pat gently into the skin to allow for compete absorption of the serum.

Face the world with Dr Jart Cicapair Serum. It is giving you the confidence in your beautiful skin that you need to do so!
Note:
1. Ingredients subject to change at the manufacturer's discretion. For the most complete and up-to-date list of ingredients, please refer to product packaging.
2. The outcome of this skin-care product projected here is general. Individual experience may vary depending on age, gender, skin type, lifestyle, diet, other conditions, and disorders.


COCOMO is a registered company in Singapore, Korea, Indonesia, Malaysia, and China
All products sold in COCOMO is 100% Authentic. 500% refund if any items are found fake.
We provide product support and wholesale inquiries via:
(WHATSAPP) +65 8425 5525
(INSTAGRAM) @cocomo.65
ORDERS
How do I make a purchase?
Shopping at the cocomo.sg site is a piece of cake!
Browse through our site for the product that you need.

Click on the item you want to bring you to its description page.
Specify the quantity of said item that you want by clicking on the "+" or "-" icons next to the number 1.
Click on the black "Add to cart" button.

You can proceed to checkout or proceed to browse for more products as you wish.

To proceed to checkout, click on the cart icon on the top right corner of your screen. This gives you the option to either "view cart" or checkout. Clicking "checkout" brings you to the checkout page.
Fill in your billing details and confirm the mode of payment (PayPal, Credit Card or other payment tools).

Check the "Create an account" box to create an account on cocomo.sg should you wish to do so. It will prompt you to provide a password.
You can check the "SHIP TO A DIFFERENT ADDRESS" box and fill in the different address details if you wish to ship to a different address.

Click the blue button of 'continue to payment' at the bottom of the shipping method and then you can meet 'paynow'. After payment, "PLACE ORDER" or "PROCEED TO PAYPAL" depending on your confirmed mode of payment.

Shortly after placing your order, you will receive an email with a number confirming your order.
What is an order tracking number, and how do I get one?
Once you have placed an order, you will receive a tracking number for your package. You can use it to check the status of your order in regard to shipping at Track Your Order
How long until my order is confirmed?
Usually this process is immediate. As soon as you have placed an order and payment is complete, you will receive a confirmation email. Please check your email as soon as you place an order and complete payment. This email is a guarantee that your order has been confirmed. Without this email, your order will not have been confirmed.
Can I make changes to my order after it has been paid for and confirmed?
Unfortunately, amendments can cause delays to your and possibly other clients' orders.  This is because all orders are processed immediately to avoid any mix ups. Therefore once an order is confirmed, it cannot be amended in any way.
Is it possible to cancel my order?
Sadly, it is not possible to cancel an order once it has been confirmed. Since we receive a lot of orders, it can cause a lot of delay to go through each one individually. Kindly carefully review all of your items at checkout before placing an order to avoid any errors in your choices.
Is it possible to buy products directly from your warehouse?
Any and all purchases made at cocomo.sg will be online.
Is it possible to order products via phone call?
Any and all purchases made at cocomo.sg will be online. While we delight in speaking with our clients, the phone call service is reserved for our Customer Care Team at (insert number here).Please feel welcome to speak to them regarding account or order inquiries.
What do I do if a product that I want is out of stock?
The cocomo.sg site does not allow you to add products that are out of stock to your cart. Kindly wait until it is in stock for you to place an order.
I am having trouble ordering through my mobile device. What do I do?
Cocomo.sg is well optimized for most mobile browsers. If you are having trouble with the site, we recommend clearing your cache and restarting your device browser.
There is a problem with an item that I ordered. What do I do?
If you receive a product that is faulty or problematic in any way, please contact us immediately at https://cocomo.sg/contact/. Give us your name, email, and details of the product and the problem with it. You will be asked for details such as your order confirmation number and pictures of the problematic product that you received, so have those ready as well.
Is it possible to make bulk purchases and get a discount?
You can specify the quantity of each product that you need as you add to your cart. If there is a sale, you it will be noted carefully in the product information page. Usually the original price will be struck through and the discount price noted next to it. During a sale you will receive discounts on products, regardless of quantity. *Kindly confirm if there is a limit to the quantities of products that can be bought at the site.
If you are wholesaler, please send us your inquiry by email or WhatsApp. 
PAYMENT
What payment methods does cocomo.sg offer?
PayPal

Credit Card

Other payment tools will be added more
I have completed a payment but have not received a confirmation email. What do I do?
Most payments and orders are processed immediately. If you have placed an order and have not received a confirmation email in 24 hours, please contact us immediately by email or WhatsApp. Do not repeat the same order in order to avoid any unnecessary duplication.
DELIVERY
How much is the shipping cost for the products as cocomo.sg?
Depending on your order quantity and where you live, shipping costs may vary.
How do I determine shipping cost for a product that I have ordered?
Click on the cart icon in the top right corner. Click on the "view cart" option. This should bring you to the cart page, where all of your orders will be listed. On the right side is a panel for "cart totals", with a subtotal amount for all the products and a shipping estimate under it. Specify your location and click "Calculating Shipping" to get a shipping flat rate estimate for your order.
Can I collect my delivery directly from cocomo.sg?
Unfortunately, cocomo.sg does not offer Self Collection services at 81 Ubi Avenue 4 at the moment.
How do I collect my package once it is delivered?
You can use your order tracking number to check whether your product has been delivered on Track Your Order Status  . Once it is delivered, check the address that you provided in your shipping details for your product. Note that there may be some delays on holidays, sale days or cases of extreme weather.
My product has not arrived, despite my order tracking number showing that my shipment has arrived. What do I do?
If your order has not arrived within 48 hours of the date when it was supposed to arrive, contact us immediately . Your order number will be required.
RETURNS
What is the return policy for cocomo.sg?
Please refer to 'Terms & Conditions' section. 
Is it possible for me to test a product from cocomo.sg before purchasing it?
Since we are an online store, we unfortunately don't offer an option to test any of the products beforehand. Please check the ingredient composition of a product in its description page to identify any allergen that could affect you before making a purchase.
What do I do if I have had a change of heart or am unhappy with a product that I purchased at cocomo.sg?
Unfortunately, we do not accept return on any items that were as a result of an incorrectly made purchase. Kindly carefully check your cart before placing your order and completing your purchase at checkout.
ACCOUNT
How do I create an account at cocomo.sg?
Click on the 'sign in' at the top right corner next to the cart icon. This should bring you to the login page which also has a "Create Account" section that you should click on if you don't yet have an account. Enter your email address and password and you will be good to go!
I'm having trouble logging into my account. What do I do?
Follow the following steps if you are having trouble logging in.
Clear your browser cache and history. Restart the browser and try logging in again.
Make sure that your username, email and password are the correct ones and are entered correctly.
If you think that you may have forgotten your password, click the "lost your password?" link and follow the steps provided to reset your password.
If you are still unable to login to your account, contact us with details of the issue.
Can I purchase a product at cocomo.sg without a cocomo.sg account?
You can opt to create an account if you don't have one at checkout. Note that it is not a mandatory requirement, but a highly recommended one. It will allow you to check your recent orders, shipping details and more!